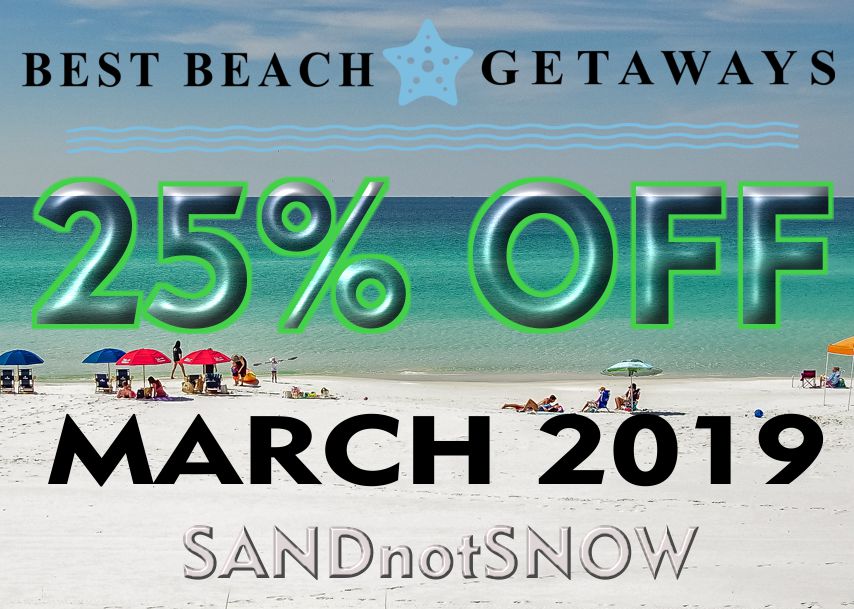 Save 25% on your March Vacation!
Spring is around the corner, be the first one to reserve your March 2019 vacation!
We're offering 4 great units within Panama City Beach condo rentals and Destin condo rentals areas, from which you can save as much as 25% off Regular Rent Rates
Offer valid ONLY for a 7 night stays from 01-09 March, 2019
This is a first come first serve — or reserve!
The 25% discount applies to the following units and you must enter  code "SANDnotSNOW"  – this promotion is ONLY available for  online reservations
These units are located in Destin
Ariel Dunes II 604— 2 Bedroom / 2 Bathroom, Sleeps 6
– Regular Rates $1217 with code "SANDnotSNOW" it's $913 includes Taxes+Fees
Beach Manor @ Tops'L 605— 2 Bedroom / 2 Bathroom, Sleeps 6
– Regular Rates $1206 with code "SANDnotSNOW" it's $904 includes Taxes+Fees
Jetty East 516B— 2 Bedroom / 2 Bathroom, Sleeps 6
– Regular Rates $1221 with code "SANDnotSNOW" it's $915 includes Taxes+Fees
These units are located in Panama City Beach
Long Beach 4 – 207E— Studio / 1 Bathroom, Sleeps 4
– Regular Rates $1049 with code "SANDnotSNOW" it's $787 includes Taxes+Fees
Moondrifter 105 — 2 Bedroom / 2 Bathroom, Sleeps 8
– Regular Rates $1096 with code "SANDnotSNOW" it's $822 includes Taxes+Fees
Prices may vary slightly depending on which dates you select – includes Taxes+Fees 
Tags: Destin condos for rent, Destin vacation rentals, Discount Vacations, Panama City Beach condos for rent, Places to eat