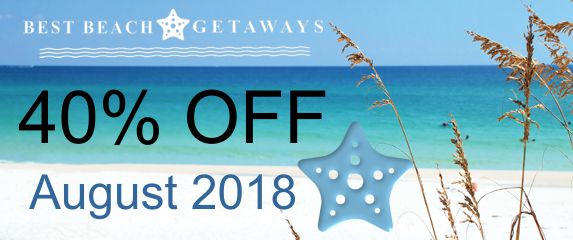 Save 40% on a Great August 2018 Vacation!
Be the first one to reserve your August 2018 vacation!
We're offering 30 great units within Panama City Beach condo rentals and Destin condo rentals areas, from which you can save 40% off Regular Rent Rates
Offer valid ONLY for a 3 night stays from 11-29 August 2018
This is a first come first serve — or reserve!
The 40% discount applies to the following units and you must enter  code "AUGUSTDEAL"  – this promotion is ONLY available for  online reservations
These units are located in Destin

Beach Cottage 194 at Hidden Dunes — 2 Bedroom / 2 Bathroom, Sleeps 7
Beach Cottage 196 at Hidden Dunes — 2 Bedroom / 2 Bathroom, Sleeps 9
Beach Cottage 215 at Hidden Dunes — 2 Bedroom / 2 Bathroom, Sleeps 6
Beach Cottage 227 at Hidden Dunes — 2 Bedroom / 2 Bathroom, Sleeps 6
– Regular Rates $961 with code "AUGUSTDEAL" it's $577 includes Taxes+Fees
Beach Manor 605 — 2 Bedroom / 2 Bathroom, Sleeps 6
Beach Manor 703 — 2 Bedroom / 2 Bathroom, Sleeps 4
Beach Manor 705 — 2 Bedroom / 2 Bathroom, Sleeps 6
– Regular Rates $979 with code "AUGUSTDEAL" it's $587 includes Taxes+Fees
Enclave 402-B — 2 Bedroom / 2 Bathroom, Sleeps 7
– Regular Rates $1049 with code "AUGUSTDEAL" it's $629 includes Taxes+Fees
Ariel Dunes I 1203 — 2 Bedroom / 2 Bathroom, Sleeps 6
Ariel Dunes II 808 — 2 Bedroom / 2 Bathroom, Sleeps 6
– Regular Rates $888 with code "AUGUSTDEAL" it's $532 includes Taxes+Fees
These units are located in Panama City Beach
Emerald Beach 1328 — 1 Bedroom / 2 Bathroom, Sleeps 6
Emerald Beach 1533 — 1 Bedroom / 2 Bathroom, Sleeps 6
Emerald Beach 1835 — 1 Bedroom / 1 Bathroom, Sleeps 6
Emerald Beach 426 — 1 Bedroom / 1 Bathroom, Sleeps 6
Emerald Beach 534 — 1 Bedroom / 2 Bathroom, Sleeps 6
Emerald Beach 727 — 1 Bedroom / 2 Bathroom, Sleeps 6
– Regular Rates $734 with code "AUGUSTDEAL" it's $464 includes Taxes+Fees
Majestic Beach 2-1704 — 3 Bedroom / 2 Bathroom, Sleeps 8
Majestic Beach 2-701 — 3 Bedroom / 2 Bathroom, Sleeps 8
– Regular Rates $1142 with code "AUGUSTDEAL" it's $685 includes Taxes+Fees
Sunrise Beach 1104 — 3 Bedroom / 2 Bathroom, Sleeps 8
Sunrise Beach 1609 — 3 Bedroom / 2 Bathroom, Sleeps 8
Sunrise Beach 1704 — 3 Bedroom / 2 Bathroom, Sleeps 8
Sunrise Beach 1903 — 3 Bedroom / 2 Bathroom, Sleeps 9
Sunrise Beach 1908 — 3 Bedroom / 2 Bathroom, Sleeps 8
Sunrise Beach 2004 — 3 Bedroom / 2 Bathroom, Sleeps 8
Sunrise Beach 2008 — 3 Bedroom / 2 Bathroom, Sleeps 8
Sunrise Beach 2009 — 3 Bedroom / 2 Bathroom, Sleeps 9
Sunrise Beach 2504 — 3 Bedroom / 2 Bathroom, Sleeps 8
Sunrise Beach 809 — 3 Bedroom / 2 Bathroom, Sleeps 8
Sunrise Beach 810 — 3 Bedroom / 2 Bathroom, Sleeps 9
– Regular Rates $1026 with code "AUGUSTDEAL" it's $616 includes Taxes+Fees
Tidewater 700 — 2 Bedroom / 2 Bathroom, Sleeps 6
– Regular Rates $819 with code "AUGUSTDEAL" it's $491 includes Taxes+Fees
Prices may vary slightly depending on which dates you select – includes Taxes+Fees 
Tags: Destin condos for rent, Destin vacation rentals, Discount Vacations, Panama City Beach condos for rent, Places to eat